< Back to blog
HDR
21 Best Lightroom Presets of 2020
7 July 2020
For those who use Adobe Lightroom for color correction and batch editing, this list of the best Lightroom presets will come in handy. These tools improve the contrast of photographs as well as lighting and even out skin tone.
The Lightroom presets allow you to add artistic effects such as matte, vintage, black and white, and even HDR. All files are shared in the lrtemplate and XMP formats which can be easily added to Lightroom 4, 5, 6 and CC. The XMP version is also compatible with the Lightroom Mobile version.
Photo Studio 10 Ultimate
Photo Studio 10 Ultimate allows amateurs and photographers to improve the quality and color of the photos in one click.
With the help of automatic intelligent technology you no longer need to be an expert in Photoshop or Lightroom. The program will do everything for you providing an amazing result.
21 Best Lightroom Presets for Photographers
In this article, we have put together the best Lightroom presets that will allow you to edit any number of photos in a single style with just one click of the mouse professionally. They are suitable for portrait, wedding, Instagram, landscape, and other popular photo genres.
 1. Vintage Love Lightroom Presets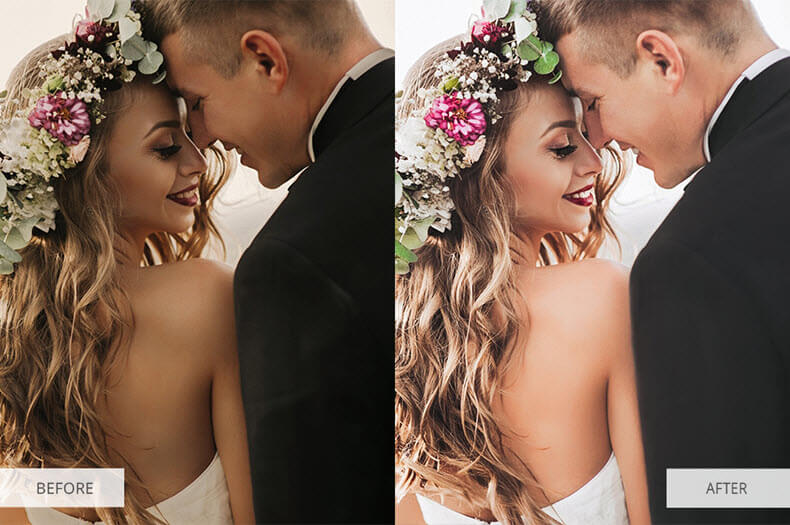 These are the best Lightroom presets for professional photographers to edit wedding or love story photos. The presets add softer tones, lighten the skin and improve the overall color scheme. By the way, if you are wondering how to install Lightroom presets, the installation will take only a couple of minutes and even beginners will cope with this task.
2. Cinematic Colors Lightroom Presets
This is an ideal pack of presets for the cases when you need to add a cinematic effect to street or studio shots. The presets will make even the most ordinary scenes more interesting by increasing contrast, creating more vivid colors and a light effect reminiscent of HDR to return lost detail. Download free LUTs  to color grade your clip, if you're going to record a video of behind the scenes.
3. Portrait Pro Lightroom Presets
Are you looking for the best Lightroom preset for portraits? This pack will make portraits more professional-looking with the model's lightened and natural skin tone, brighter colors and improved contrast. If you use Photoshop for these tasks, download these portrait Photoshop actions.
4. Matte Lightroom Presets
This is a perfect pack for editing photos that lack natural bright accents in the background. The presets do not only enhance models in portraits but also add more saturation to the colors of the environment.
5. Wedding Classic Lightroom Presets
These are the best Lightroom presets to buy for a wedding shooting. Besides, they will come in handy for batch editing and color correction.
With these presets the color palette becomes more saturated and vibrant. No need to worry about the natural tone of the skin as it will be preserved. For batch color correction refer to professional wedding photo editing service.
6. Sepia Fantasy Lightroom Presets
If you need to add a sepia effect to your photo, then we'd recommend taking a look at this set. It copes with the task better than any other set. As a result, all the significant details of the photo as well as light and dark tones won't be much distorted.
7. HDR Effect Lightroom Preset
You can use special programs or shooting methods to create the HDR effect. Or you can try the Lightroom presets for this task. They will help you achieve a soft and natural look of photos with less effort. You can also use them for batch processing.
8. Dark Film Lightroom Presets
These presets are created for portraits that require more focus on a person, not flashy bright colors. The tools brighten the skin tone and all the details of the picture, give the color palette a deeper tone and saturation as well as increase contrast. Just add grain or grunge Photoshop overlays and stylish results are guaranteed.
9. Interior Photography Lightroom Presets
This is the best Lightroom preset bundle to enhance interior photos. These presets are particularly effective for the cases when due to insufficient lighting you were not able to properly capture all the details of the room.
10. Newborn Pro Lightroom Presets
Without a doubt, this is the best collection of presets for editing newborn pictures. It allows you to remove the redness of the babies' skin easily, even out its tone and also add more light.
11. Visual Flow Lightroom Presets
Visual Flow Lightroom Presets are beautiful, refined presets for professional wedding and portrait photographers. The color tones have been tested on thousands of images and they have a thriving online community to provide inspiration, support, and education.
12. Matte Dream Lightroom Presets
This pack is designed for outdoor portrait photos taken in the warm time of the year. It will emphasize the beauty of the environment and add some lightness. The presets saturate the color palette, improve skin tone and apply a slight matte effect.
13. Dark Moody Lightroom Presets
These presets are aimed at making photos taken in bad weather more artistic and mysterious. They mute the colors but at the same time make them deeper and more saturated.
14. Honey Moon Lightroom Presets
This set is suitable for any genre of street photographs where you need to turn a boring cityscape into a more attractive picture. Your photos will become lighter and the colors will become warmer.
15. Majestic Landscape Lightroom Presets
Use these presets to add saturation and brightness to landscape photos creating an HDR-like effect. Besides, the presets will enhance natural colors. To add more grass or trees, use these flawless Photoshop textures.
16. HDR Real Estate Lightroom Presets
This set is suitable not only for interior photographs but also for the exterior of your real estate photographs taken at any time of the day. You no longer need to spend hours bringing back important facade details using Photoshop. The presets will do everything for you.
17. Product Photography Lightroom Presets
These are the best Lightroom presets to buy for photographs of goods for an online store or magazine. They separate the main subject from the background focusing on the object. Also, the presets add richer colors and detail.
18. Underwater Photography Lightroom Presets
For those involved in underwater photography these presets are a definite must-have. They increase contrast in photographs and add natural bright colors to underwater residents. If you record videos under water too, these video overlays will become helpful too.
19. Black & White Essential Lightroom Presets
This universal preset bundle will turn photos into high-quality black and white images. Besides, these monochrome presets lighten photos and make the skin smoother.
20. Orange and Teal Lightroom Presets
The perfect set for editing summer photos as it makes them more saturated and vibrant. Using these presets the sky, ponds and other elements of the landscape will receive improved color and saturation.
21. Winter Lightroom Presets
To work with winter photos and make them more appealing, this is the best Lightroom preset bundle. The presets make the snow whiter and the shades of clothes, hair or other details more vivid. Besides, you should not worry about the skin, its tone will even out and become more attractive.