< Back to blog
HDR
Best Free and Paid Photoshop Actions in 2020
7 July 2020
If you don't have enough time to make color correction and basic portrait edits in Photoshop, you should definitely use free Photoshop actions to simplify some actions. These portrait and landscape actions will significantly reduce the time for routine work in Photoshop removing minor defects or adding artistic effects.
InPixio Photo Studio 10
Photo Studio 10 is the best application for the fast removal of unwanted objects or the entire background in a photo.
Also using it you can easily create photo collages. The tool allows you to smooth outlines for a more seamless transition between the object and the background to achieve a more natural look of the collage.
15 Best Photoshop Actions for Photographers
Using these Photoshop actions you can easily speed up a long portrait editing process, color grading of baby, landscape and interior pictures. Besides, you can get rid of skin defects, work with skin texture or smoothness, add artistic effects as matte, pastel, orange & teal, etc.
1. Pro Skin Retouch Photoshop Actions

This Photoshop actions set was created specifically for portrait photographers who constantly need to smooth the skin of the model and eliminate various defects. Just one mouse click is enough and the action will do everything for you.
2. Gentle Newborn Photoshop Actions

With this set of actions you can eliminate any skin defects in photos of babies, make the skin smoother and lighter while keeping it natural. These actions work very accurately and provide an amazing effect. For making newborn color correction in Lightroom, use these Lightroom presets.
3. Winter Holidays Photoshop Actions

With these free Photoshop actions you no longer need to wait until it snows again and try to capture it on camera. Using special brushes that come with this set, you can add snowflakes. The action will take care of correcting colors, lighting and contrast.
4. HDR Real Estate Photoshop Actions

With these actions you can enhance the interior and exterior photos of the property. They will improve the overall color palette, return lost details in poor lighting conditions and correct the lighting. Using Photoshop textures you can add brick or wood to enhance your buildings.
5. Cartoon Effect Photoshop Actions

These actions are often used by photographers and graphic designers to embody their creative and unusual photo manipulation ideas. They will turn ordinary photos into drawings of different styles from pop art to pixel games.
6. Double Exposure Photoshop Actions

You no longer need to learn different settings to create a professional double exposure effect. Just install these actions in Photoshop, select the necessary photos and enjoy the result.
7. High End Retouching Photoshop Actions

With this set of free actions for Photoshop you can not only edit the skin of your model professionally but also achieve a dodge and burn effect, change eye color, brighten whites of eyes, improve the saturation of makeup colors and brighten the portrait.
8. Watercolor Painter Photoshop Actions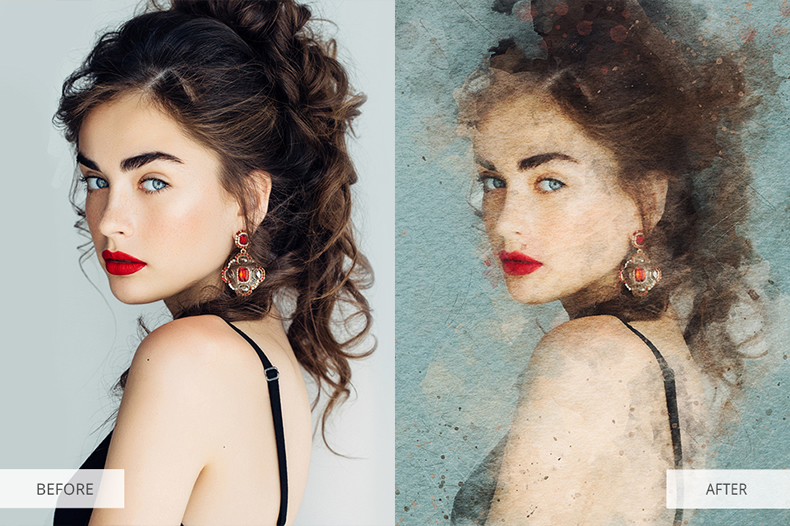 This set has all the necessary tools to turn your photos into beautiful watercolor paintings and preserve all the details on the face and background. These actions have different settings and you can choose the intensity of each effect.
9. Reflection Photoshop Actions for Landscapes

With these free actions for Photoshop you can add a reflection effect to practically any photo. For landscapes you can add high-quality reflection using ponds. For portraits you can create a mirror effect.
10. Vintage Colors Photoshop Actions

These actions can improve the skin tone, remove various defects from it, change the color tone of the photo. The peculiar feature of the set is the possibility to achieve a vintage effect and increase contrast. To add grains to your old-fashioned photos, use Photoshop overlays.
11. Sandstorm Photoshop Actions

Use these actions to create more dynamic action photos. With their help you will be able to create stunning artistic sandstorm effects around objects. You can choose the direction of sand grains, their radius of action and quantity. Repeat the same manipulation with your videos using professional LUTs for videos.
12. Low Poly Photoshop Actions

With this free Photoshop action set you can add a stylish low poly effect to fashion and portrait photos. You can change the intensity of the settings, create individual elements and cover the entire portrait with bright geometric shapes.
13. Powerful Instagram Photoshop Actions
These actions allow you to edit photos not only for Instagram accounts but also for other social networks and publications. The set includes such actions as dodge and burn, sharpen, brownie. Using them you can make selfies and self-portraits brighter and more saturated. For unusual and creative Insta stories, use these video overlays.
14. Sparkle Photoshop Actions for a Dreamy Look

If you want to add some magic to your photos, use this action set for a professional effect. With its help you can apply sparks of different sizes and shapes to photos and create beautiful patterns. For more creative photo manipulations, refer to photo retouching services online.
15. Glitch Effect Photoshop Actions

In this set you will find more than twenty actions. Using them you will be able to create a glitch effect of different intensity degrees and with various colors. You can use them for portrait photos taken in the studio or outdoors.